When you think of skateboarding, what comes to mind? Girls skateboarding might not be your first thought, but it should be. Because girls all over the world, including Melbourne, are becoming a part of the action.
And it's no surprise why..
Considering the many benefits of skateboarding, the growing community of girl skaters and the increased availability of girl's skateboard lessons, getting involved in the sport is a no-brainer!
What's behind the rise in women's skateboarding?
Trailblazing skater girls have been breaking down barriers within skateboarding for some time. Their passion and skill for skateboarding has led to huge changes in everything from the attitude towards women's sponsorship to the growing popularity of skateboarding at local parks.
The pandemic also helped to kick the popularity of skateboarding into a new gear. During the countless lockdowns, many people were looking for a new hobby and picked up a skateboard to fill their time. It was a chance to try something new, and many never looked back.
When skateboarding debuted at the 2020 Tokyo Olympics (which took place in 2021), mainstream perceptions of skateboarding shifted too. In the past, boys dominated skateboarding. It was seen as masculine and something only the 'wrong crowd' got involved in. The Olympics changed that. It elevated skateboarding in the media as a rigorous, challenging and competitive sport and broadcast this into the homes and phones of young and old across the world.
Young guns such as Sky Brown and our very own Poppy Olsen also competed in the Olympic event. These inspirational young skaters, combined with the new image of skateboarding, spurred a whole new generation of girls to take up the sport.
Skateboarding was no longer just for boys and the back streets – it was for everyone.
Skate videos
Girl's skateboarding has not only grown in popularity in the media and at skate parks. It's grown on social media too.
From sharing behind the scenes insights to their skateboarding 'fails', loads of skater girls are posting creative and engaging skate videos on their Instagram and Tik Tok profiles. And social media users have been lapping it up. As more girls share skateboarding content online, even more girls are becoming excited about the sport and are desperate to try it out for themselves.
These insanely popular skate videos are also giving many female skaters a huge online following. Many companies have realised their potential, offering sponsorships and partnerships. The rise of these types of commercial opportunities for female skaters has shown young girls that they can be recognised for their efforts and that there is a future for them in the sport.
Check out some of these girl skaters who have become known for their impressive skate videos.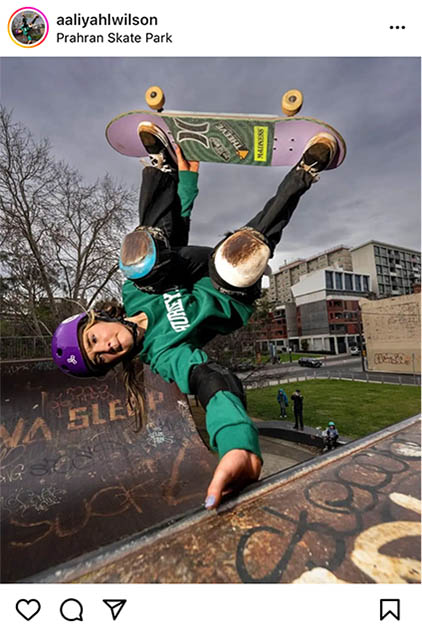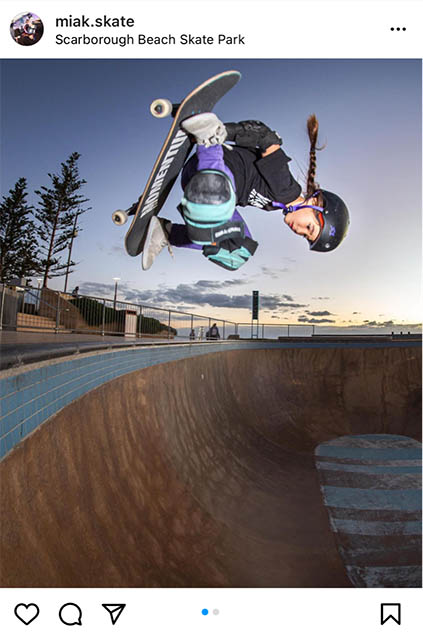 Of course, it's super addictive to go down a spiral of watching skateboarding tricks you'd love to one day master, but what's skateboarding like IRL?
What are the benefits of skateboarding?
Skateboarding isn't just a sport. It's art, expression, community and culture. It can be anything from a mode of transport to a fully-encompassing lifestyle. And it's great for your physical, mental and social wellbeing.
Here are the top benefits of skateboarding:
It's fun! – There's so much to skateboarding that people love. From learning cool tricks to embracing the sport's culture (which includes art, photography, videos, music and fashion), there's lots that you can get involved in and enjoy.
It's great for your wellbeing – Skateboarding is a brilliant way to improve your fitness, coordination and balance, especially if you're not really into team sports. It's also great for your mental wellbeing. Lots of people use skateboarding as an outlet – a way to channel their energy into something positive if they're feeling stressed, angry or anxious.
It's about overcoming challenges – If you ask a skater what their favourite thing about skateboarding is, they'll probably mention the thrill of finally mastering a trick that they've spent ages practising. Skateboarding teaches you to never give up, and the feeling of learning a new skill is like nothing else.
It's easy to get involved – You only need two things to get started: a skateboard and a rollable surface. That could be your bedroom floor, your backyard or the street outside. No fancy equipment required!
It gives you a sense of community – A lot of the time, people are attracted to skateboarding because they feel like they don't 'fit in'. Skateboarding provides a safe place where you can be yourself and feel like you belong. If you see someone with a skateboard, you know that you're a part of the same community and have a common interest.
A sisterhood of skateboarding
Skateboarding with a group of people that support you and celebrate your tiny wins is a big part of girl skateboarders' enjoyment and progression.
Still, it's completely normal to feel nervous and intimidated if you're looking to join the skateboarding community for the first time. So many girls worry about being the only girl in the skate park or feel embarrassed to practise basic tricks in front of others – but they shouldn't. There are lots of ways to find your people and give it a shot.
Lily Smith, YMCA Action Sports Specialist, sees this all the time. She said: "Even though the boys at skate parks usually keep to themselves, most girls, especially first timers, still find being at the park daunting. Basic activities such as practising tricks publicly can become anxiety-inducing tasks."
The truth is, most boys at the skate parks are encouraging and skate parks are really inclusive places. But as women's skateboarding becomes ever more popular, girls are forming their own groups to carve out a safe space for themselves.
These groups are often formed on social media and girls from the local community meet up at a designated time and place to practise. Being a part of a group means that the girls can teach and encourage each other so that no one feels alone.
A lot of skate parks also have group sessions just for girls. Here in Melbourne, Riverslide Skate Park offers inclusive sessions like this, where girls and anyone who is a part of the LGBTQI+ community are all welcome.
We spoke to some of the girls who attend Riverslide's group sessions to find out why they love skateboarding and the girls' skateboarding community.
How to get involved in girls' skateboard lessons
Girls' skateboarding lessons are a great way to learn new skills, improve your mental and physical wellbeing, and meet other skaters in a supportive environment.
If you want to try out skateboarding, the best thing to do is look online or ask your local council if there are any skate parks near you that offer lessons or group sessions.
At the Y, we offer inclusive girls and LGBTQI+ skateboard lessons and skate sessions across Melbourne. Kids, teenagers and adults can get involved.
These lessons are run by experienced skateboarding coaches who can help you to try new things, make progress and have fun. You'll learn all about skate culture and get to hang out with a positive community of awesome girls and young women.
If you're not sure if you want to commit to buying a skateboard – don't stress. We can provide you with a skateboard and safety equipment so that you can try it out and see if it's for you.
If structured lessons aren't your thing, our skate parks also have staff on site during operating hours to help you out with any skills or questions you may have. We also offer equipment repair services if you biff your board a bit too hard.
And if you're dreaming of becoming a female skateboarding champion, we can help you with that too. In partnership with Skate Park Leagues and the Australian Skateboarding League, the Y runs skate competitions all around Australia. This means that we can support you through the amateur and pro leagues..
If girls' skateboarding sounds like something you would like to pursue and a community you'd like to be a part of, come down to one of our skate parks and give it a try!